The European organisation ESO has embarked on the construction of the Extremely Large Telescope (ELT) in the middle of the Chilean desert. The telescope and its structure reach a volume comparable to eight times that of the Arc de Triomphe in Paris.
A monster of technology
The collecting power of its ultra-giant mirror, 39 metres in diameter, is equivalent to bringing together the 16 largest telescopes in the world. When it is built, probably shortly after 2026, the ELT will be able to observe the weakest sources in the sky. It will be able to study objects so far away that they are inaccessible to other telescopes, unlocking many mysteries in cosmology, about the formation of galaxies, for example the nature of small galaxies or star clusters far beyond our Galaxy or Local Group.
Moreover, since the resolving power of a telescope depends on its size, the ELT will be able to solve the stars with the smallest apparent sizes: the apparent size of the most distant galaxies is much smaller than an arcsecond (for comparison, the Moon's apparent size is 1800 arcseconds). At these scales, observations are very much affected by the Earth's atmospheric turbulence, requiring advanced techniques to overcome it, such as adaptive optics.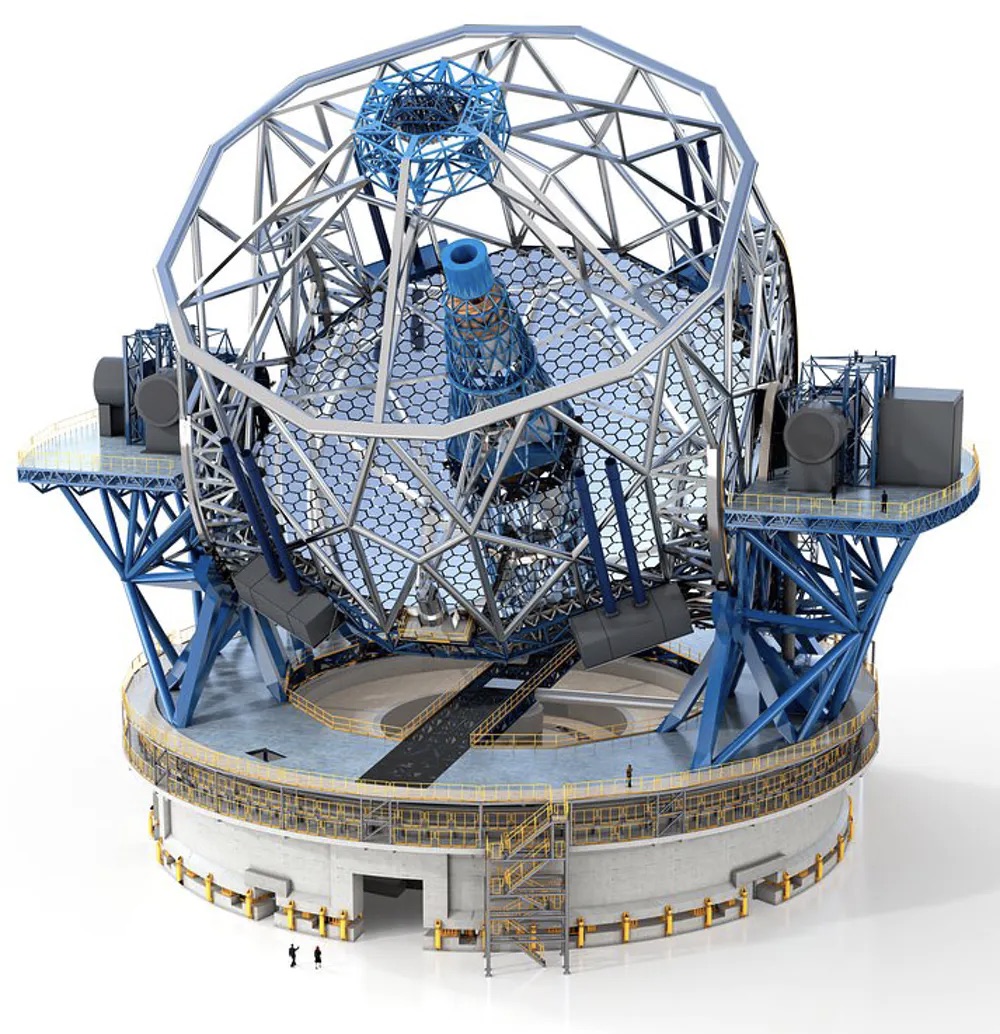 From the outset of the project, ESO has made a huge commitment to focus all its efforts on ensuring the highest possible spatial resolution. This is equivalent to counting the petals of a daisy 100 kilometres away! The goal is to distinguish an extrasolar planet from its star to distances approximately the thickness of a spiral arm of our Galaxy, in order to study in detail the planetary content of a considerable number of nearby and less nearby stars.
It's a gamble that's not insignificant since the main mirror will be made up of 798 segments, each 1.40 metres long, which will have to be aligned with an unequalled precision of only 15 millionths of a millimetre! The other four mirrors of the telescope will have to guarantee the same precision. In particular, two of these mirrors can be mechanically deformed to compensate for tiny variations in the path of light due to atmospheric turbulence. This is made possible by adaptive optics based on complex turbulence analysis systems.
Faced with the challenge of building a mastodon telescope capable of resolving the smallest sources of light in the universe, the European organisation ESO took an even riskier gamble: first install the most sophisticated instruments capable of obtaining the finest spatial resolutions, and only then the two instruments that use the telescope's maximum collecting power instead (this being guaranteed, whatever the performance of the telescope and its enormous structure).
Read more: The ELT will be the largest telescope ever built...